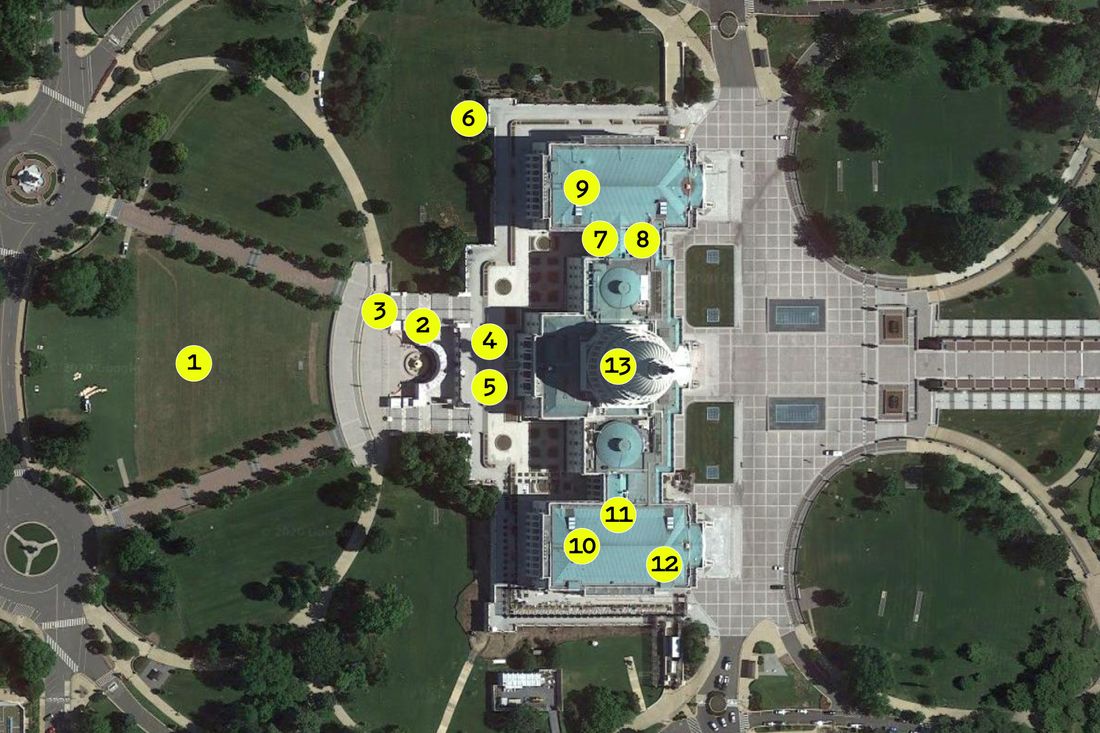 A flood of photographs of the insurrection at the Capitol came across news outlets and their Twitter feeds today. Many are remarkable individual documents, made by photojournalists who — let's not forget this — put themselves at physical risk on the job. But the images are, to the vast majority of viewers who don't know their way around Capitol Hill, a little hard to parse. We've put together a diagram of the approximate location of the day's activities, as they progressed from the Mall through the doors and into the chambers of the House and Senate (not to mention Nancy Pelosi's office).
1. Outside, converging on the Capitol. As the protests escalated into riots, the crowd approached from the eastern end of the Mall.
Photo: Tayfun Coskun/Anadolu Agency via Getty Images
2. Security blocks the entrance on the West Front of the Capitol.
Photo: Tayfun Coskun/Anadolu Agency via Getty Images
3. Scaling the outer rim of the portico.
Photo: Samuel Corum/Getty Images
4. As rioters close in on the main doors of the building, police deploy gas in an effort to disperse them.
Photo: Tasos Katopodis/Getty Images
5. The rioters, who seem to have first entered the building from the east, cross the interior and open the doors on the west front, breaking a window in the process. (See tweet below for video from inside the doors.)
Photo: Tasos Katopodis/Getty Images
Trump supporters breach the line of police, now having opened the Capitol on the front and back side as outside crowds rush into the building #January6th #Capitol #DC #WashingtonDC pic.twitter.com/qUobYiubT7— Brendan Gutenschwager (@BGOnTheScene) January 6, 2021
6. Protesters scale the perimeter wall at the building's northeast corner.
Photo: Jason Andrew/The New York Times/Redux
7. On the staircase in the Senate wing.
Photo: Win McNamee/Getty Images
8. In the second-floor corridor of the Senate wing. The white marble bust on the right is of Richard Nixon; the portrait at far left is of the ardent pro-slavery senator John C. Calhoun.
Photo: Saul Loeb/AFP via Getty Images
9. Inside the Senate chamber.
Photo: Win McNamee/Getty Images
10. Sheltering in place in the gallery around the House of Representatives chamber.
11. Breaking into the House chamber. Inside, security officers draw their guns.
Photo: J. Scott Applewhite/AP
12. An invader occupies Nancy Pelosi's ceremonial offices. They're outside the House chamber; her main working space is in the nearby Longworth House Office Building.
Photo: Jim Lo Scalzo/EPA-EFE/Shutterstock
13. A looter departs the House offices through the rotunda with a lectern bearing the Speaker's seal.
Photo: Win McNamee/Getty Images