Chart courtesy of BOMA International
Office tenants predict that fewer than half of their employees will return to the workplace full-time over the next 12 to 18 months as hybrid work options become the norm, according to a major new survey of office space decisionmakers nationwide.
The survey commissioned by the Building Owners and Managers Association (BOMA) International, underwritten by Yardi Systems Inc. and developed by Brightline Strategies found a growing belief in the vitality of the physical office—along with a slight drop in the number of tenants reassessing their space needs—compared to December, when the first study in the series was released.
---
---
A gradual but steady return to the office appears to be underway. At the time of the survey, nearly one fifth of participants—19 percent—reported that they had already resumed normal office operations. Looking toward the second half of 2021, 26 percent are eyeing a return during the third quarter, and another 18 percent predict that office operations will resume during the fourth quarter.
Despite these optimistic signs, tenants reported that the average number of people working in the office full-time would drop from 70 percent prior to the COVID-19 outbreak to 43 percent over the next 12 to 18 months. They anticipate that just 26 percent of the workforce will be remote full-time or most of the time.
The new study of COVID-19's impact on commercial real estate canvassed 3,155 decision-makers and influencers across the U.S. from March through May, gauging tenant sentiments during a pivotal period for the industry. The findings come as workstations in the nation's biggest metros remain mostly empty, while employers ranging from JPMorgan Chase & Co. to Google press forward with return-to-office plans.
Gauging Confidence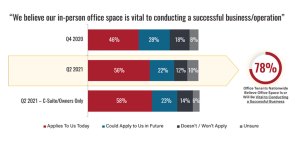 Chart courtesy of BOMA International
Other key findings include growing optimism about the nation's handling of the virus—up from 28 percent in the fourth quarter of 2020 to 65 percent today. More occupants are giving high marks to owners' and operators' response to COVID-19; 86 percent of tenants now say they approve of their property management firm's response, a 9 percent increase since December.
Sixty-four percent of tenants, however, would like to see building teams make more investments in amenities beyond the "status quo"—including health and safety measures (such as infrastructure, technology and flexible space) and health and wellness-focused amenities and programming. The latter encompasses digital platforms for online networking and professional development, along with non-pandemic-related health and wellness resources.
At an extraordinarily fluid time for the office sector, the perceived value of physical space continues to hold steady. Nearly four-fifths (78 percent) of tenants surveyed said that office space is vital to conducting business successfully, rising four points from the previous study. The share of tenants rethinking their space needs declined from 61 percent to 55 percent, with 22 percent now unsure whether they will reassess their needs, a slight 3 percent increase since December.
Nevertheless, the survey suggests challenges ahead, as 37 percent of all office tenants are considering downsizing their footprints. Of those respondents that are currently making—or have made—organizational and spatial shifts due to the pandemic, 19 percent are shifting square footage to coworking environments. Eighteen percent are subleasing a portion of their space and 17 percent are opening new satellite offices.